In this post, you're going to get a step by step visual guide on how to mix and work with HempCrete for your next building project or art piece!
There are so many things that you can do with hempcrete, but understanding how to mix the 3 simple ingredients is key.
Just with any recipe, once you get the hang of it, you won't even need to follow a recipe, you will just be able to see the fluffiness of the materials or how wet it is and you will know what it needs.
To make it easier to understand we've designed this infographic for you.
So take your time understanding this, and if you have questions feel free to leave them below and we will be happy to be of service.
STEP 1: Get Your Hemp Hurds
(Hemp hurds are also known as hemp hurds)
Get wood chip sized pieces .5 in – 1.75 in
Ratio of Hurds: 6.2 – 6.8lb/ft3
It's the core fiber of the hemp stalks
Ideally free of dust
Minimal amounts of long bast-fiber present in the hurd.
STEP 2: Get Your Binder
Comes in 50lb bags
10lbs/ft3 is required
STEP 3: Making the HempCrete
Start your mixer
Add hemp
Then add the water
Make sure the hemp gets wet
Add the binder
For best results apply within
20 – 30 min after mixing
STEP 4: Preparation & Framework
Use 16"-24″ plywood or OSB for formwork
Attach the formwork directly to the studs using screws
Make sure the formwork is level and vertical
Check the distance from your formwork to the stud, that will direct the thickness of hempcrete.
Use spacers for fast installation.
No need to treat timber or framework with oil or lime wash.
You can remove the formwork instantly after you reach the top of it with hempcrete
Shift your formwork upward half way to the hempcrete mix and
Repeat all the steps again.
Areas of Application
Metal Framework
Concrete Walls
Stone Walls
Timber or Bamboo Frame
Roots
Floors
Interstitial Space
New or Existing Structures
Dome and Pyramid Buildings
and much more!
HempCrete Comparison Chart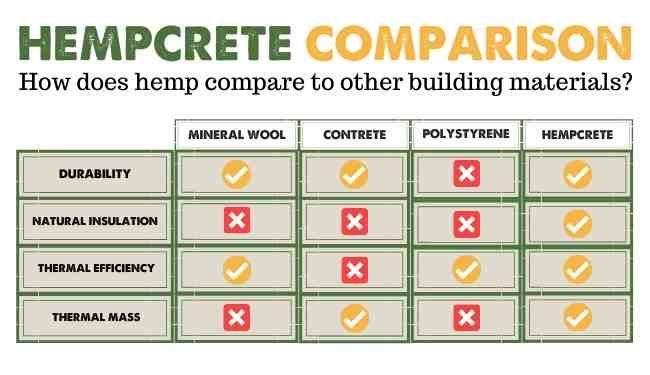 Final Thoughts
If you have any questions or comments that you'd like to share about building with hempcrete we'd love to hear from you! Just use the comment section below.